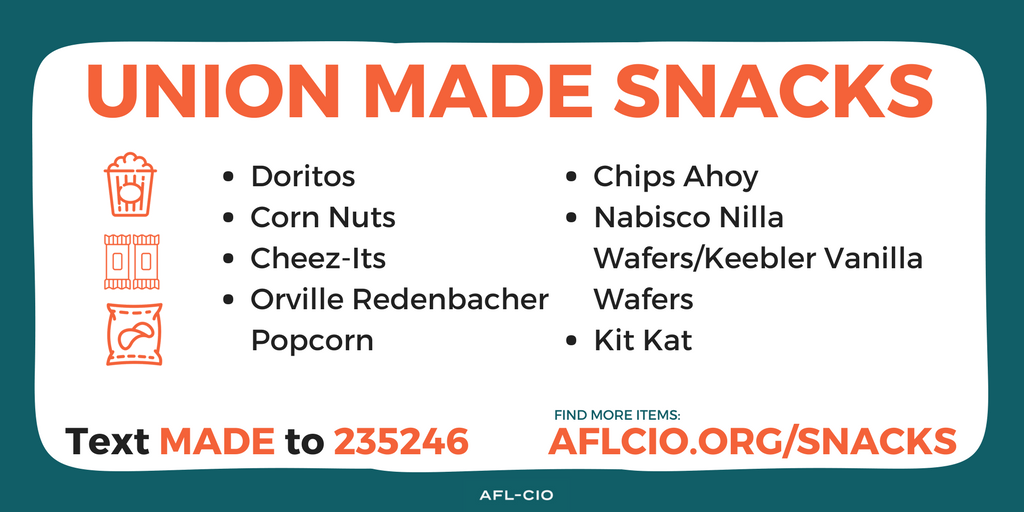 Your Union-Made Snack Guide!
You like snacks, right? Everybody does! Did you know that your snack choices can reflect your values and show support for working people? That's right, when you choose these snacks made by the Bakery, Confectionery, Tobacco Workers and Grain Millers (BCTGM), you not only have fun, you use the power of your wallet to make the world a better place. Here's a handy guide to let you know which snacks are union-made!
Chips and Pretzels: You have lots of options here (all made by BCTGM), including: Rold Gold pretzels made in Canton, Ohio (Local 19); UTZ pretzels made in Reading, Pennsylvania (Local 6); Frito-Lay products made in Topeka, Kansas (Local 218) and Vancouver, Washington (Local 364); Pirate's Booty and Keystone Foods products made in Easton, Pennsylvania (Local 6); Mikesell's potato chips made in Dayton, Ohio (Local 57); Happy's potato chips made in St. Paul, Minnesota (Local 22); and Bugles made in West Chicago, Illinois (Local 316G).
Ice Cream Toppings: If you love ice cream and want some special toppings, get those made by BCTGM at the Masterson Company of Milwaukee (Local 244).
Sweet Goods: Prefer your desserts baked? Try out Safeway's bakery goods made by BCTGM Local 114 (Portland, Oregon), Local 118 (Washington, D.C.), Local 68 (Baltimore) or Hostess Brands, including Ding Dongs, Twinkies, SnoBalls, made from either the Indianapolis (Local 1) or Columbus, Georgia (Local 42) bakeries.
Bread and Rolls: The following products are made by various BCTGM locals: Bimbo, SB Thomas, Sara Lee, Nature's Harvest, Earthgrains, Freihofer, Colonial, Metz, Arnold, Brownberry, Oroweat, Entenmann's, Ball Park, Marinela, Maier's, Beefsteak, D'Italiano, J.J. Nissen, Boboli, Mrs. Baird's, Heiner's, Tia Rosa tortillas and Stroehmann.
Candy: If you want candy, your options are mind-expandingly plentiful. Here are some of the companies where BCTGM members make the candy you need:
Annabelle Candy Company: Rocky Road, Abba-Zaba, Look, Big Hunk and U-No made by Local 125 in Oakland, California.
Boyer Candy: Mallo Cups, Peanut Butter Cups, Smoothie Cups, Triple Twist Pretzels and Dark Chocolate Mallo Cups made by Local 19 in Cleveland, Ohio.
Brown & Haley: Almond Roca, Cashew Roca and Mocha Roca made by Local 9 in Seattle.
Concord Confections/Tootsie Roll Industries: All Tootise Roll brand products (made by BCTGM Local 1 in Chicago) and Double Bubble Bubble Gum (made by Local 264 in Toronto).
Frankford Candy & Chocolate: Gums, jellies, hard candy, molded filled, hollow and solid chocolate (made by Local 6 in Philadelphia).
Ghirardelli Chocolate: Pumpkin Spice Caramel Squares, Solid Milk, Milk & Caramel, Solid 60% Cacao Dark and Dark & Sea Salt Caramel and all varieties of chocolates (made by Local 125 in Oakland, California).
Hershey: Hershey Milk Chocolate Bars, Hershey Milk Chocolate with Almond Bars, Cookies 'N' Creme Bars (snack, extra-large and giant sizes only), Hershey Kisses (Milk Chocolate, Milk Chocolate with Almonds, Special Dark, Cookies 'N' Creme), Rolo and Hershey Nuggets (made by Local 464 in Hershey, Pennsylvania).
Jelly Belly: Candy Corn, Jelly Belly Disney Villains bags, Harry Potter Bertie Bott's Every Flavour Beans, Harry Potter Jelly Slugs, Jelly Belly BeanBoozled, Gummi Rats, Gummi Tarantulas and other jelly beans (made by Local 125 in Oakland, California).
Nestlé Chocolate: Laffy Taffy, Rope Taffy, Tangy Taffy, Baby Ruth, Butterfinger, BB's, Pearson's Nips, Nestlé, Peanut Butter Cups and Minis, Nestlé Crunch Bars, Skinny Cow Candy and Sno Caps (made by Local 342 in Bloomington, Illinois, and Local 1 in Chicago).
New England Confectionery Company (NECCO): Mary Jane Peanut Butter Kisses, Mary Jane Original, Clark Jr., Skybar Zombie Food, Bat Wings, Mummy Hearts, NECCO Jr. Wafers (made by Local 348 in Framingham, Massachusetts).
Pearson's Candy Company: Tins, bagged and chocolate mints, including The Nut Goodie Bar, Salted Nut Roll and Pearson's Mint Patties (made by Local 22 in Twin Cities, Minnesota).
Sconza Candy Company: Chocolate Jordanetts, Boston Baked Beans, Yogurt Raisins, Lemoncello Almonds, Chocolate/Yogurt Fruit & Raisins and other products (made by Local 125 in San Leandro, California).
See's Candies: Chocolates, nuts and chews, truffles, lollipops, brittles and toffees (made by Local 125 in San Leandro).
Kenneth Quinnell
Fri, 04/20/2018 – 12:49
Source: AFL-CIO