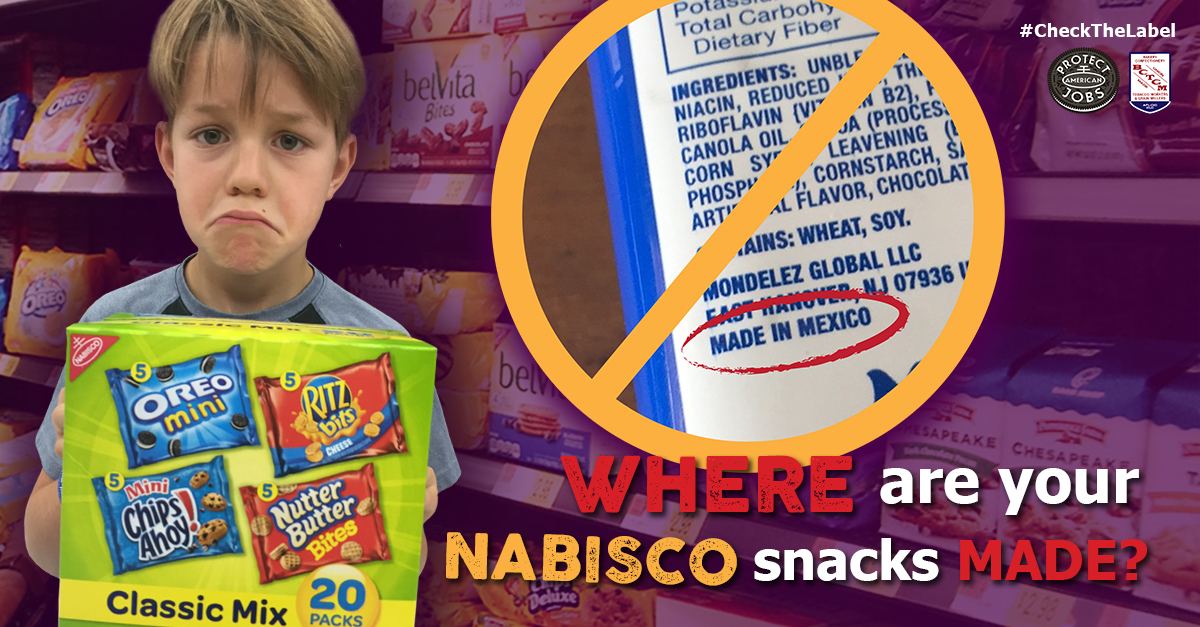 Working People Stand Up to Nabisco's Outsourcing on National Day of Action
Yesterday, at more than 100 big-box stores across the United States, working families and activists leafleted with Nabisco workers to urge consumers to boycott Nabisco snacks like Oreo, Ritz Crackers and Chips Ahoy that are made in Mexico! Nabisco and parent corporation Mondelēz International continue to outsource hundreds of good, middle-class jobs and exploit working families across borders and oceans for reportedly around $1 per hour with little to no benefits.
Working people like Anthony Jackson illustrate the human impact of the decisions made by Nabisco and Mondelēz:
"This was going to be my career," said 41-year-old Anthony Jackson. In 2011 Jackson, a Navy veteran, was hired to operate the machine that blends sugar and oil to make the sticky sweet white Oreo icing that Americans of all ages love.

On Veterans Day this year, Jackson demanded that Nabisco/Mondelez "do the right thing" and restore the hundreds of jobs his fellow workers lost when the company made the decision to outsource production. Jackson said that among the hundreds who lost their jobs, many are veterans like him.
Here are some key tweets from actions around the country yesterday, which used the hashtag #CheckTheLabel:
NATIONWIDE from Texas, North Carolina, Maine, to Oregon and even Hawaii, yesterday's #solidarity with @Nabisco Workers was amazing! THANK YOU to all who came out to educate! #ChecktheLabel #1u pic.twitter.com/X5VMaXTq8X

— Nabisco 600 Workers (@BCTGM_Nabisco) November 17, 2017
Nabisco/ @MDLZ continues destructive outsourcing & exploitation of working families. Join Nat'l Day of Action. BOYCOTT @Nabisco snacks made in Mexico! #ChecktheLabel pic.twitter.com/cYAxggaZnj

— Richard L. Trumka (@RichardTrumka) November 16, 2017
In Portland, Ore., solidarity prevailed as L.114 members, led by L.114 Secy.-Tres. Terry Lansing and amazing trade union activists of @OregonAFLCIO spent the day educating the community on how to #CheckTheLabel #1u pic.twitter.com/WjSOvL2oPR

— BCTGM International (@BCTGM) November 17, 2017
In Atlanta, Intl. Rep. David Woods, Local 42 Bus. Agt. Zachery Townsend and L. 42 members spread the Boycott news and teach the #ChecktheLabel #1u pic.twitter.com/CRgQFfkoVu

— BCTGM International (@BCTGM) November 17, 2017
In Greensboro, NC., hard working BCTGM Local 317T members end their shifts are all about #ChecktheLabel outside the big box stores! pic.twitter.com/jenM4APIDg

— BCTGM International (@BCTGM) November 17, 2017
Proud BCTGM Local 10G members Mark Randall, Andrew Kuennen and Mike Stunes spread the news of the boycott of @nabisco snacks and @MDLZ outsourcing American #jobs in Cedar Rapids, Iowa. #CheckTheLabel pic.twitter.com/DlxPCEnIo7

— BCTGM International (@BCTGM) November 17, 2017
In West Palm Beach, Fla., BCTGM L. 103 Bus. Agt. Donald Lewis and VP Hewlyn Outten urge shoppers to boycott @nabisco snacks made in Mexico and support American jobs! #ChecktheLabel @BCTGM_Nabisco pic.twitter.com/xfeHXDfeB7

— BCTGM International (@BCTGM) November 17, 2017
Solidarity from Washington, DC with @BCTGM_Nabisco in the fight to save American jobs. Always remember to #CheckTheLabel and boycott outsourced Nabisco products. pic.twitter.com/NhSs7LnQ9U

— AFL-CIO (@AFLCIO) November 16, 2017
Outside a Portland Walmart: With actions outside 100 stores nationwide, the @BCTGM boycott against Mexican-made Nabisco products isn't going away any time soon.#CheckTheLabel https://t.co/eNHMx2TxHL

— Don McIntosh (@nwlaborpress) November 16, 2017
Kenneth Quinnell
Fri, 11/17/2017 – 13:53
Source: AFL-CIO