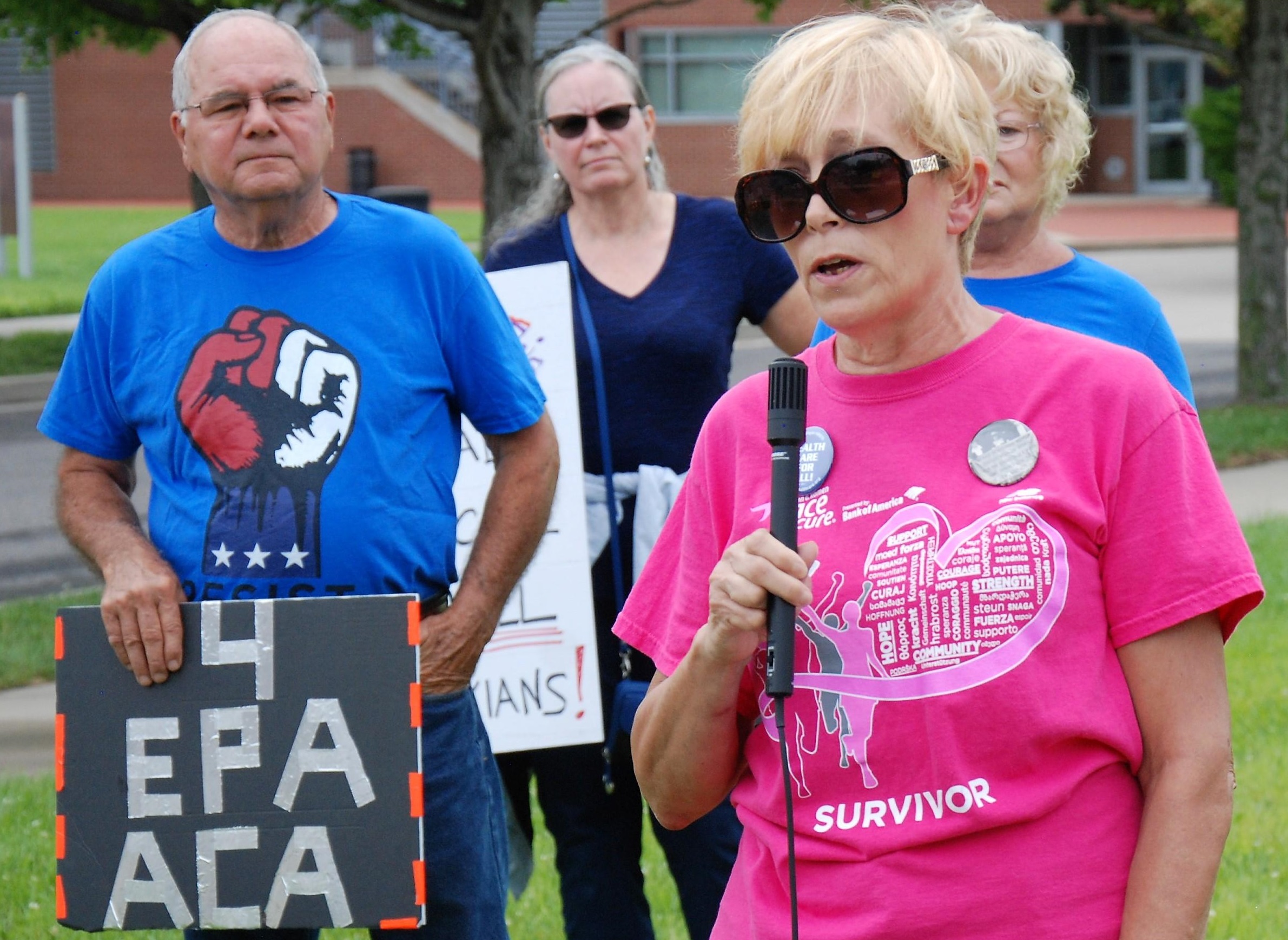 'We Celebrate Tonight, but Tomorrow We Pick Up the Battle Again'
Mary Potter calls Trumpcare "the canary in the coal mine," warning that President Donald Trump and Republican leaders "may be stalled on this, but they are busy, busy, busy on other issues."
She said the GOP also aims to deep-six "senior citizens programs, youth programs."
An attorney and online newspaper publisher in Clinton, Kentucky, Potter belongs to Four Rivers Indivisible, a far western Kentucky–deep southern Illinois branch of the national organization.
Both rural regions are Republican red. That hasn't stayed the group from protesting GOP efforts to gut or ax the Affordable Care Act.
"I think that while McConnell has to keep up the show to the base by doing everything in his power to repeal Obamacare, the nationwide opposition to Trumpcare-no-care has made it clear that what needs to happen to this bill is for it to disappear," said Leslie McColgin, who heads the group.
When McConnell disappeared indoors at recent Republican-friendly gatherings in Paducah and Mayfield, Four Rivers members and others protested outside.
McConnell dodged the protesters.
McConnell's office didn't publicize his visits, though western Kentucky is conservative country that went big for Trump this past November and for McConnell when he won a sixth term in 2014.
Local Democrats think the protests in Trump territory indicate that the ground may be shifting from under the Republicans. McConnell, too, might be in for a tough re-election battle in 2020, they add.
Paducah is the seat of McCracken County, where Trump pocketed 66.4% of the vote. Graves County, whose seat is Mayfield, tilted to Trump, handing him 76.4% of its ballots.
"It has to have had an effect on McConnell that even in Paducah and Mayfield people were motivated enough to find out he was in town and show up to protest," said McColgin, a breast cancer survivor who lives in Lowes, near Paducah.
McColgin was at both protests. Beau Mohon of Graves County showed up at the Mayfield protest.
"I think it made a difference," said Mohon, a member of the Young Democrats who is on the Graves County Democratic Executive Committee with McColgin. "People driving by honked in support. People saw protesters here and not just in Washington, D.C."
Committee member Emily Cornwell, also a Young Democrat, said the apparent demise of Trumpcare is bound to hurt McConnell's chances for re-election in three years. "I don't see how he thinks he has a future in politics the way it finally played out for him."
Meanwhile, Four Rivers folks also have been firing tough questions at Kentucky First District Rep. James Comer at his town halls.
Few lawmakers in Washington are more loyal to McConnell and Trump than Comer, a Tompkinsville Republican.
Comer backed both House versions of Trumpcare. He has voted for every bill the president has supported, according to FiveThirtyEight's Tracking Congress in the Age of Trump: An updating tally of how often every member of the House and the Senate votes with or against the president.
McColgin, also a member of her local county Democratic Committee, is keeping her powder dry.
"As [McConnell]…moves to the next phase of playing to his base and attempts a straight-up repeal, we must continue the fight, lest this next repeal bill sees the light of day," she said.
The House GOP version of Trumpcare—officially the American Health Care Act—seemed dead, too, but was revised and passed on a second try. The Senate bill is the Better Care Reconciliation Act.
"It will have to be the moderate Republicans that kill the straight-up repeal bill, because the Rand Pauls and Mike Lees will not be 'no' votes on that, and the protests cumulatively nationwide are a powerful reminder to those moderates of the stakes if they go down that path," McColgin said.
Aaron Bugg of Paducah cautioned against whooping it up over Trumpcare's apparent demise.
"They're now pushing for a repeal with no replacement, which will boot 18 million people off of insurance next year, rather than kicking 22 million off gradually," said Bugg, a member of Kentuckians for the Commonwealth, a Bernie Sanders delegate to the 2016 Democratic National Convention and an honorary delegate to the Paducah-based Western Kentucky AFL-CIO Area Council.
He added, "If they can't develop a bill now, can they develop one in under a year? Why the gamble? And if they do repeal, and keep kicking the can down the road, 32 million people will lose insurance over time.
"We have to keep pressure on them and keep demanding improvement, not disassembly."
Council President Jeff Wiggins said the polls clearly show that most Americans like the Affordable Care Act, not Trumpcare.
"The Republicans are trying to take care of the insurance companies, but even the insurance companies came out against this last proposal," added Wiggins, who is also president of United Steelworkers (USW) Local 9447 in Calvert City, Kentucky, which also is near Paducah.
"Anybody with a pre-existing condition is doomed with replace or repeal. The Republicans want to go back to the way it was before."
Kay Tillow of Louisville agrees: "One more horror of a plan went down to defeat," said the head of Kentuckians for Single Payer Health Care. "We celebrate tonight, but tomorrow we pick up the battle again."
A veteran labor and civil rights activist who was born in Paducah, Tillow declared that "the only real solution is to remove the insurance companies from our health care and move the nation forward to national single payer, improved Medicare for all. It will take a gargantuan movement to make that happen.
"H.R. 676 is now up to 114 co-sponsors, including some southern Blue Dogs. Medicare for y'all."
More than 600 union organizations nationwide—including the Kentucky State AFL-CIO and the Western Kentucky Area Council—have endorsed single payer, according to Tillow.
This guest post from Berry Craig originally appeared at the Kentucky State AFL-CIO.
Kenneth Quinnell
Wed, 07/19/2017 – 11:30
Source: AFL-CIO