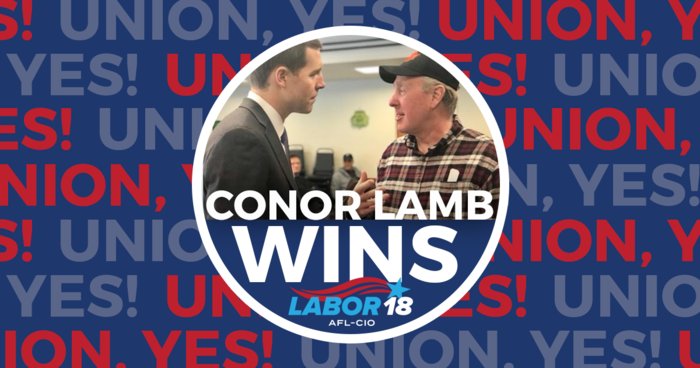 Victory in Pennsylvania Shows Path to Power Is Through the Labor Movement
Democrat Conor Lamb won a close special election for Congress in Pennsylvania on Tuesday, a massive turnaround in a district that then-presidential candidate Donald Trump won in 2016 by 20%. Rep.-elect Lamb embraced working people and stood up for the issues that are important to us, and we helped propel him to victory.
AFL-CIO President Richard Trumka said:
Conor won this race because he proudly stood with unions, shared our agenda and spoke out for our members. He didn't just ask for our support—he earned it by opposing unnecessary "right to work" laws, backing protections for coal miners' pensions and supporting commonsense trade enforcement.

His victory proves that the path to power runs through the labor movement.

Union members used our passion and resources to help elect Lamb. Now we are going to use that same energy to hold him accountable in office. Winning elections is only the first step. Winning pro-worker policies is the ultimate goal.

Tonight's result is a wake-up call for every single politician. Earning the support of working people is a high bar that must be cleared with meaningful words and actions—not blind deference to party operatives or corporate interests.

Working people are ready to move heaven and earth to help a genuine ally. But we won't waste a dime or a door knock on fair weather friends. If you want working people to rally around you, then you need to rally around us.
The Mine Workers noted the importance of Lamb's victory for pensions:
As political observers across the nation try to parse the results of last night's special election in Pennsylvania's 18th Congressional District for clues to upcoming midterm contests, one issue that clearly stands out is solving the multi-employer pension crisis. PA-18 demonstrates that voters who fear for retirement security will blur partisan lines to support candidates they believe have their backs.

News accounts have documented a sharp division between the winner in the PA-18 contest, Conor Lamb, and his opponent, Rep. Rick Saccone, on addressing the pension crisis. Saccone ducked the issue when asked to address it by reporters, preferring to eat ice cream rather than answer whether he supported the American Miners' Protection Act. Lamb and his surrogates, including United Mine Workers of America (UMWA) International President Cecil Roberts, by contrast, have made solving the pension crisis a central issue.

"You elect this man to Congress, and you won't have to lobby him one minute," said Roberts at a recent campaign rally for Lamb. "He's for your pensions, he's for your union, he's for your health care. This is a 'yes' vote."

In the wake of Lamb's victory last night, Roberts noted that "a lot of our members who didn't vote in the last election or voted for President Trump came out and voted for the one candidate who was clear about standing up for their pensions and their retirement security. They may still agree with the President about a lot of things, but they know that if they lose their pension they will be scrambling just to survive. All the other things any politician is doing or saying fall by the wayside when a person is in survival mode."
The Pennsylvania AFL-CIO said:
"For weeks union members have held thousands of conversations across southwestern Pennsylvania on the issues that affect working families and their jobs. This election is proof that when working people come together in a united labor movement, we can achieve outstanding results. In living rooms, on telephones, and at work sites, our brothers and sisters mobilized to elect a candidate who stands up for working people and the issues that matter in their daily lives. Conor Lamb has demonstrated that honesty, integrity and support for a fair economy for all is the future of American democracy," stated President Rick Bloomingdale.

"Election Day, even a special election, is only the first step in our determined effort to win economic justice for all. Our activism and mobilization will continue throughout 2018. Our work to lift-up candidates who will fight for working people, their rights to collectively bargain, and work to unrig the system, is far from finished. On March 13th we ran through the finish line in the race for the 18th district, but the marathon continues," added Secretary-Treasurer Frank Snyder.
Allegheny County Union Veterans Council Chair Craig Romanovich said:
The Union Veterans Council is proud to have been part of Rep.-elect Conor Lamb's victory. Because of the hard work put in by union veterans and the working people of the 18th Congressional District, we are sending our champion, our voice, to Washington, D.C.
Kenneth Quinnell
Wed, 03/14/2018 – 11:15
Source: AFL-CIO