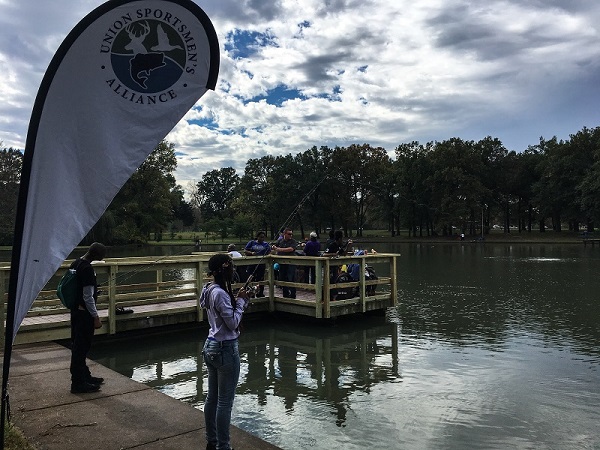 USA Hosts Community Fishing Day, Dedicates Willmore Park Piers
Youth, veterans and seniors got to wet their lines at a fishing event at Willmore Park in St. Louis, Missouri, today, to celebrate the completion of two fishing piers restored by union volunteers.

The event was hosted by the Union Sportsmen's Alliance (USA) in conjunction with the AFL-CIO 28th Constitutional Convention.
The USA's Work Boots on the Ground (WBG) conservation program brought together union volunteers from Missouri AFL-CIO, St. Louis Labor Council, St. Louis Building and Construction Trades, St. Louis Kansas City Carpenters Regional Council, EMLDC Laborers AGC Training Center, Iron Workers Local 396 and Painters and Allied Trades DC 58 to rebuild one fishing pier and install and paint a railing on another at Willmore Park to make them safe for visitors. The project was sponsored by PNC Capital Advisors and Aetna.
"St. Louis has a strong urban fishing heritage, and parks are an important part of our city's culture," said Missouri AFL-CIO President Mike Louis. "The project at Willmore Park united volunteers from many union trades for the common purpose of improving our community and public fishing access for all to enjoy for generations to come."
A group of nearly 150 gathered to celebrate the new pier with speeches and a commemorative plaque before enjoying a free lunch. Immediately after lunch, a group of youth, veterans and seniors received hands-on fishing instruction and assistance provided by USA volunteers. All participants received a free fishing rod, reel and tackle courtesy of Pure Fishing.
"America's urban parks are a true treasure providing large populations living within city limits access to the great outdoors. However, many of these parks have infrastructure that is deteriorating, and city budgets that simply can't provide the necessary maintenance," said USA CEO & Executive Director Scott Vance. "The USA has the most powerful tool available to help preserve our urban parks and outdoor heritage—skilled union members willing to give their time, expertise and passion to the cause. The Willmore Park project and community fishing day is true testament to our union volunteers, the power of Labor and their strong desire to give back more to their community than they receive."
In addition to the companies and unions that helped restore the fishing piers, the following organizations helped make the fishing event possible: Vandaventer Place Retirement Center, Lively Stone Church of St. Louis, Missouri Veteran's Home of St. Louis, United Food and Commercial Workers Local 58, Communications Workers of America Local 6300 and national and local AFL-CIO members.
Jackie Tortora
Sat, 10/21/2017 – 19:25
Source: AFL-CIO