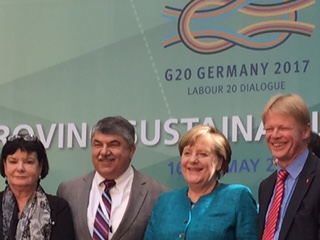 Trumka Delivers Petitions to Angela Merkel on Behalf of Working People at T-Mobile and Volkswagen
AFL-CIO President Richard Trumka attended the Labour 20 conference last week in Germany, where he hand-delivered petition signatures to Chancellor Angela Merkel on behalf of workers at T-Mobile and Volkswagen, seeking justice for the working people employed by the German companies in the United States. Skilled trades workers at Volkswagen's Chattanooga, Tennessee, plant voted in 2015 to join a union, but the company refuses to negotiate with them. Among other complaints, T-Mobile was ordered last month by a federal administrative judge to shut down an illegal union set up by management.
The Labour 20 brought together unions from G-20 countries to work to advocate pro-worker positions to their labor ministers. The assembled countries made commitments to clean up global supply chains, provide decent work, ensure living wages, and integrate migrants, women, refugees and young people into their workplaces.
Kenneth Quinnell
Fri, 05/19/2017 – 14:54
Source: AFL-CIO