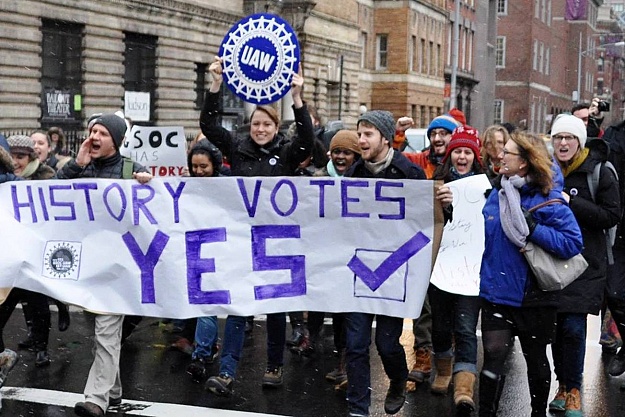 Tell the Labor Department Not to Repeal the Persuader Rule
The Labor Department issued a proposal on Monday that would rescind the union-buster transparency rule, officially known as the persuader rule, designed to increase disclosure requirements for consultants and attorneys hired by companies to try to persuade working people against coming together in a union. The rule was supposed to go into effect last year, but a court issued an injunction last June to prevent implementation. Now the Trump Labor Department wants to eliminate it.
We wrote about this rule last year. Repealing the union-buster transparency rule is little more than the administration doing the bidding of wealthy corporations and eliminating common-sense rules that would give important information to working people who are having roadblocks thrown their way while trying to form a union.
AFL-CIO spokesman Josh Goldstein said:
The persuader rule means corporate CEOs can no longer hide the shady groups they hire to take away the freedoms of working people. Repealing this common-sense rule is simply another giveaway to wealthy corporations. Corporate CEOs may not like people knowing who they're paying to script their union-busting, but working people do.
If the rule is repealed, union-busters will be able to operate in the shadows as they work to take away our freedom to join together on the job. Working people deserve to know whether these shady firms are trying to influence them. The administration seems to disagree.
A 60-day public comment period opened Monday. Click on this link to leave a comment and tell the Labor Department that we should be doing more to ensure the freedom of working people to join together in a union, not less. Copy and paste the suggested text below if you need help getting started:
"Working people deserve to know who is trying to block their freedom from joining together and forming a union on the job. Corporations spend big money on shadowy, outside firms that use fear tactics to intimidate and discourage people from coming together to make a better life on the job. I support a strong and robust persuader rule. Do not eliminate the persuader rule."
Kenneth Quinnell
Thu, 06/15/2017 – 11:22
Source: AFL-CIO