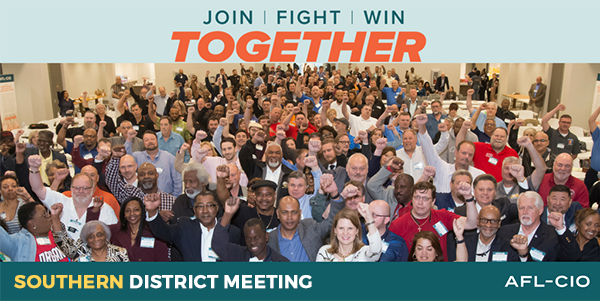 Southern Labor Leaders Unite Around a Common Strategy to Build Worker Power
"Collective action is alive and well here in the South," said AFL-CIO Secretary-Treasurer Liz Shuler to over 300 labor leaders gathered in New Orleans this week. Southern union leaders from Alabama, Arkansas, Florida, Georgia, Kentucky, Louisiana, Mississippi, North Carolina, Oklahoma, South Carolina, Tennessee and Virginia joined together to unite around a common strategy to build worker power in their states.
Shuler acknowledged recent victories in the South and the importance of building on that momentum. Those wins include:
Across the South, union members mobilized to elect champions for working people, such as Ralph Northam in Virginia, Doug Jones in Alabama, Linda Belcher in Kentucky and Braxton Winston in North Carolina.

In New Orleans, workers at the city's largest hotel

formed a union

with UNITE HERE.

In Tennessee,

the labor movement stopped

a corporate-backed effort to privatize maintenance and management at most state-run facilities.

In Arkansas, we saw the addition of 15,000 new union members last year, reaching the highest level of union membership in the state since 2008.

Teachers in Oklahoma and Kentucky walked out and demanded higher salaries and more school funding.

Workers at Disney World rejected the company's lowball contract offer and

continue to stand togethe

r for better pay and working conditions.
"Our test of 2018 and beyond will be to build on these successes," said AFL-CIO President Richard Trumka in a video address to attendees. Two panels dove further into the achievements and challenges we face in the states and featured state federation presidents from Alabama, Arkansas, Florida, Georgia, Kentucky, Louisiana, Mississippi, North Carolina, Tennessee and Virginia.
Florida, Virginia, Tennessee, Mississippi, and Arkansas State Federation leaders talk about the opportunities to create worker power in their states #1u #organizethesouth pic.twitter.com/zGHchB1KGI

— AFL-CIO (@AFLCIO) April 10, 2018
State federation leaders from Louisiana, North Carolina, Georgia, Alabama, and Kentucky lead a discussion with over 300 Southern labor leaders to talk how they're building power for working people in their states #1u pic.twitter.com/7jAVu38rLb

— AFL-CIO (@AFLCIO) April 10, 2018
Breakout sessions gave participants the tools they need to build a stronger labor movement in the South. Sessions focused on internal organizing, using issues to engage our members and allies, building a program to elect union members to political office, and using data and technology to break new ground in politics and organizing.
Participants left feeling energized and ready to increase worker power. Attendee Cheryl Eliano, national vice president of AFGE District 10, said, "Too often we work in silos, so I wanted to see how we can work more collaboratively as a labor movement. We need a change of course. If we leave here with a new mindset and put what we learned to action, we'll be a stronger labor movement."
The Southern District meeting was the sixth and final district meeting of 2018.
Kenneth Quinnell
Fri, 04/13/2018 – 10:13
Source: AFL-CIO