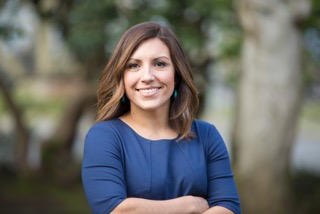 Running for Office: Have You Ever Thought About It?
I have spent the better part of the past decade asking elected leaders to vote the right way. Asking them to stand with us—as union workers, retirees, women, people of color and immigrants. I have done this by being in the streets, at rallies and protests, asking them to join us on the strike lines, and lobbying them in congressional offices, in our state legislature and in city halls.
Too often, I'd hear, "Let me think about it."
After nearly a decade of hearing those words, I was determined to get more of us who have the lived experience of workers, women, people of color and immigrants into office. Working with the AFL-CIO, I ran the Path to Power program in Washington state that has helped train nearly 100 people to run for office. Half this year's class is now on the ballot, and most candidates are slated to win. That's what building power looks like. That's what it looks like to make sure our voice is heard.
While training others to run, I would constantly hear: "Why aren't you running? Have you ever thought about it?" I had always said no. Whether being encouraged by my own parents early on, or from our state's speaker of the House over the years, I had always said no.
This year felt different. Donald Trump's triumph last November brought everything into focus: everyone we have been working to protect and lift up is at risk: workers, women, people of color, immigrants, unions, the LGBTQIA community, our elders and kiddos.
We have all been pushed out of our comfort zone, to both resist and persist for our community. We've done this by being in the streets almost every weekend since the election, marching for women, workers and human rights. We've done this by being in airports demonstrating against the Muslim travel ban. And we've have done this by running for office, given the record numbers of women and people of color now on the ballot.
Local government now must be the first line of offence and the last line of defense when it comes to protect workers and residents. This year, I said yes.
I am running for Seattle City Council to represent our city at large. I am a third-generation Mexican American, Chicana, woman, renter, fierce advocate for health care and leader in the labor movement. Now, instead of asking someone else to vote the right way, I am hoping to bring my lived experience and progressive values into the office.
At 37 years old, I am a proud Office and Professional Employees (OPEIU) Local 8 member. As the political director of the Washington State Labor Council, I proudly advocate on behalf of the half a million affiliated working people in our state. I have spent my whole life organizing to improve the health, well-being, economic justice and opportunity for vulnerable communities and working families. I have walked the halls of power fighting for health care for all children, reproductive health services, equal pay for women, and helped successfully lead and pass the minimum wage and paid sick days initiative for all Washington workers.
As union members, we know the importance of pushing for change from both the inside of the halls of power and from the outside with our bullhorns, our bodies and our community. It's time for us—working people, union members, women, people of color, young people, LGBTQIA folks, immigrants—to say yes.
I think you should run for office. Why not you? Who better to stand up and fight for workplace protections and living wage jobs than you? Who better to represent working people than someone from the labor movement? Who better to talk about the importance of a union, worker safety and retirement security?
To our sisters in the labor movement, as women it takes us on average seven times to be asked to run for office before we even think about the possibility. Have you ever thought about it?
We are at a critical time in our country's history. A fresh wave of leaders is rising and running for office. I am one of them. Our place as union members is among them. So to all workers across our movement, let me ask you just one more time (and hope this is the seventh time some of you have been asked), have you ever thought about running for office?
Join me. I think you should run. Let's bring our progressive values into the halls of power to stand up for our communities, the labor movement and working families.
Kenneth Quinnell
Sat, 10/21/2017 – 15:01
Source: AFL-CIO