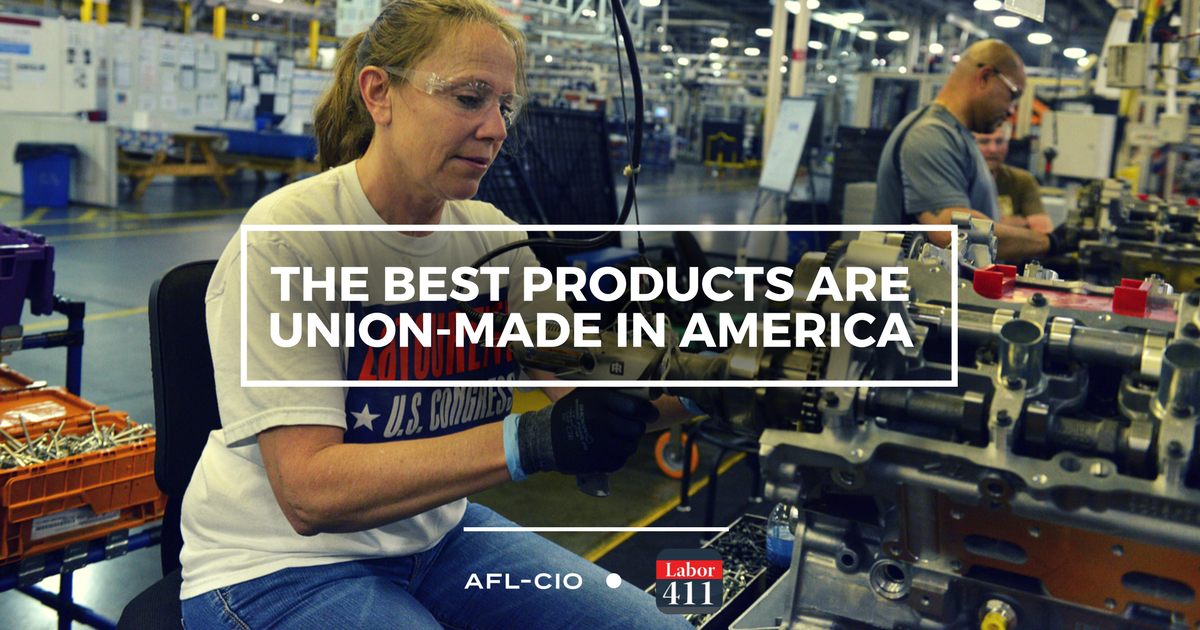 'Made In America' Week Should Be More Than Just A Slogan
The White House has declared this "Made in America" week. At AFL-CIO, we applaud the focus on buying products made by America's working people. We're a bit skeptical about President Donald Trump's record matching his rhetoric, though. Here's why:
1. Focusing on "Made in America" would ring truer if Trump brand products were made here in the United States. The Trump family has had many opportunities to make its products here at home and instead has chosen to do business in countries where labor is cheap and worker rights are few.
2. The administration had another opportunity to promote American-made products and jobs through its principles for the renegotiation of the North American Free Trade Agreement, released earlier this week. Unfortunately, the White House's plans fell woefully short. AFL-CIO President Richard Trumka had this to say:
The NAFTA objectives don't inspire confidence that the Trump administration's actions will meet its rhetoric on trade. If the administration is serious about renegotiating NAFTA in a way that raises wages and creates good jobs, it cannot continue to promise significant trade policy changes on the one hand, and produce vague, unambitious objectives in its official communications on the other. These objectives largely replicate those of the failed Trans-Pacific Partnership and won't satisfy the expectations the president created for a revival of America's manufacturing heartland. It's also ironic that these objectives, released during the administration's "Buy American" week, leave in place federal purchasing commitments that bypass "Buy American" laws. While we applaud the trade remedies objectives in particular, working families are disappointed with the document as a whole. We will continue to fight to create trade deals working people deserve.
3. It is important that Trump's talk about being tough on companies that outsource production to other countries be connected to real action. Early on, Trump bragged about saving jobs at Carrier. Yet the company this week laid off more than 300 workers, sending their jobs to Mexico. Trump previously threatened to place a tax as high as 35% on products made by companies that ship jobs overseas and try to sell those products back to the U.S. We're waiting to see how much Trump is going to tax Carrier and other companies that outsource, and how much of that additional cost is passed along to American consumers.
We like the idea of the president using his platform to promote American-made products. Now it's time to see some real commitment to America's working people through action, not just words.
Learn more about which products actually are Made in America.
Kenneth Quinnell
Thu, 07/20/2017 – 11:55
Source: AFL-CIO