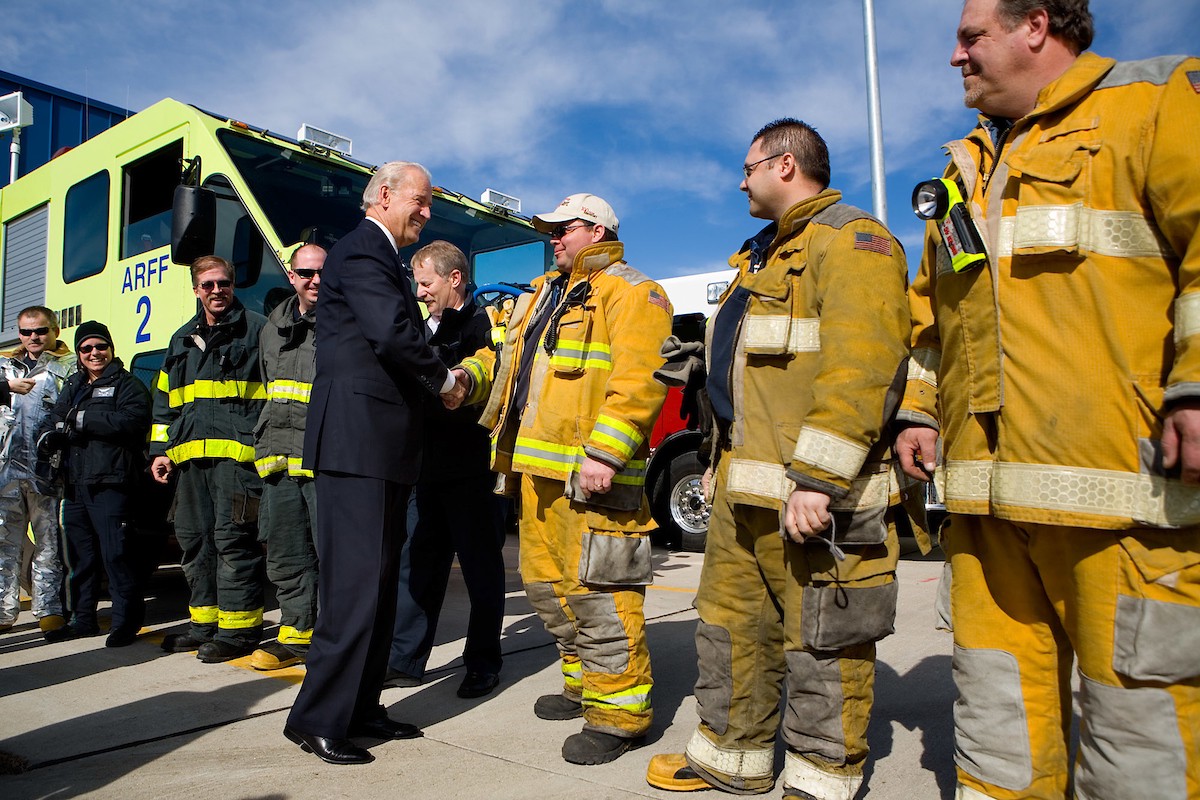 Let's Rebuild the Middle Class by Rebuilding Our Infrastructure
The middle class has been on a steady slide for decades. Signs of this slide are all around us: anemic wage growth, historic income inequality, chronic unemployment and underemployment and, not coincidentally, the steady erosion of workers' freedom to join unions and bargain for fair wages and benefits. At the same time, American households are facing rising costs that far outpace their stagnant wages. The result is that tens of millions of Americans are stuck in middling jobs that cannot support a family, while a select few enjoy the benefits of rampant inequality.
As we live through this era of severely concentrated wealth at the top, coupled with a flood of low-wage jobs, our elected representatives have failed to come together to enact solutions to this imbalanced economy. In particular, they have not been able to advance one strategy that provides quality middle-class jobs while easing the burden on families: rebuilding American infrastructure.
Our infrastructure failings are epic. The American Society of Civil Engineers (ASCE) gave our infrastructure a D+ grade. A $1 trillion shortfall in drinking water system upgrades would be completed by around 2220 at the current spending rate. Amtrak, our nation's landmark passenger railway system, is forced to beg for adequate resources while using Civil War–era tunnels. One-in-five miles of highway is in poor condition with a repair backlog well over $400 billion. People are starving for more and better public transit but instead we are watching our transit systems decay. We even trail 20 countries in internet download speed. These are all symbols of unfulfilled promises.
Inadequate and under-maintained infrastructure costs American households dearly. Americans spend 5.5 billion hours in traffic each year, costing families more than $120 billion in extra fuel and lost time. Seemingly insignificant problems such as potholes or deteriorating road surfaces chip away at families' earnings by requiring more frequent vehicle maintenance. ASCE's report found that without additional investment in infrastructure, the household budgets of working families would take a hit of $1,060 a year. Well-performing infrastructure lowers prices on household goods, prevents energy and shipment costs from soaring, and shortens commuting times for working families.
Infrastructure is also about jobs. Rebuilding our nation's infrastructure, especially if we commit to strict Buy America requirements, will produce millions of high-quality jobs along the entire supply chain — while also connecting more workers in disadvantaged communities to opportunity.
The link between infrastructure and quality jobs is simple: union members are mostly the ones who do the work needed to operate, build, and maintain our nation's roads, rail, transit, aviation and maritime networks, drinking water systems, and schools. And union jobs are a direct pathway to the middle class.
The Economic Policy Institute's data on the union difference tell a persuasive story. Unionized employees earn 13% more across all industries and a whopping 87% more in the expanding service sector. Non-union workers benefit as well when more people are unionized. For example, if today's unionization rate were at 1979 levels, non-union worker pay would rise 5%, or over $2,700 a year. More than 9 in 10 workers in unions have health care, compared to only 67% among non-union workers. Across the board, on sick pay, vacation and other work-life balance issues, unionized workers drastically outperform non-union workers.
Funding a serious infrastructure package will drive growth and innovation, reboot American competitiveness and create the types of jobs that elude too many Americans. Of course, there is a catch. The cost of eliminating the backlog and actually modernizing our infrastructure is north of $4 trillion over the next 10 years.
Some say that rebuilding our infrastructure is too expensive, or that we simply need to pass the job to the private sector. But this is not about America being broke; we have the resources. The president and Congress just found trillions in offsets and new debt to fund a massive tax cut that fails to allocate a dime for infrastructure investment. And we must not only consider the costs of action, but the costs of inaction as well: remember, we still send our kids to far too many schools built before the Korean War, and have over 9 million people who still connect to the internet via dial-up service.
Part of the solution lies in repairing the federal gas tax, which funds Highway Trust Fund investments in transit, highways and bridges. This funding source has not been indexed to inflation, let alone increased, for more than two decades. In the 25 years under a frozen fuel tax, many things have conspired against us: the purchasing power of the tax has cratered, improved fuel efficiency of cars and trucks has reduced gas usage and tax receipts, and the cost of building and repairing our surface transportation infrastructure has gone up.
We must move beyond speeches about the need to rebuild the middle class and start advancing on-the-shelf solutions that have worked for decades: rebuilding the country and empowering all workers to bargain for fair wages. Only then we will be witness to an era of American renewal and economic expansion defined by an inclusive economy where wages rise for everyone, families and communities thrive, and opportunity knocks at everyone's doorstep.
This post originally appeared at the Biden Forum.
Kenneth Quinnell
Thu, 01/18/2018 – 10:34
Source: AFL-CIO