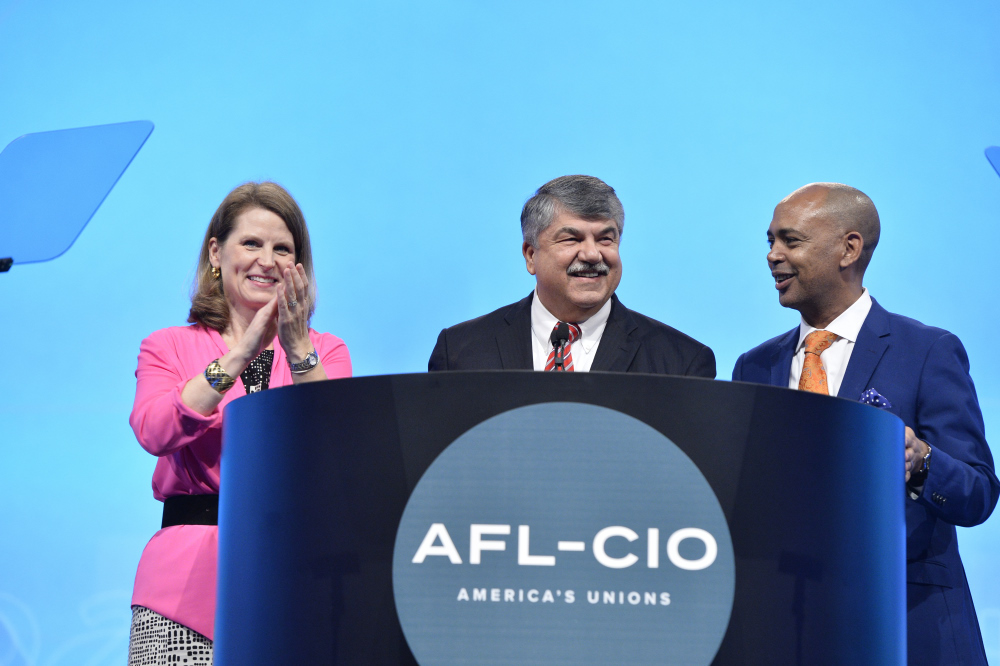 Highlights from Day One of the AFL-CIO Convention
Today, more than 1,200 union delegates and convention attendees joined together in St. Louis for the first day of the 2017 AFL-CIO Convention. Here are some of the key moments from the AFL-CIO convention in St. Louis.
The convention delegates unanimously re-elected Richard Trumka (UMWA) as president, Liz Shuler (IBEW) as secretary-treasurer and Tefere Gebre (UFCW) as executive vice president of AFL-CIO. In addition, delegates elected 55 vice presidents, who will serve as the Executive Council for a four-year term.
In his acceptance speech, Tefere Gebre said:
Sisters and brothers, these are tough times.

For our country. For our movement. For our communities.

Between black and white. Between immigrant and native-born. But even in the face of these challenges, I have hope.

Hope of a brighter day. Hope of a stronger tomorrow. Hope of an America with liberty and justice for all. Sisters and brothers, this is a job for the labor movement!

We can bring our country together!

I pledge to do my part. To lead with my heart. To never stop fighting.
In her acceptance speech, Liz Shuler said:
And, yet, brothers and sisters, standing in front of you today, I feel almost breathless. Breathless from the rate of change. My head is spinning as the world increasingly careens in unexpected turns. My head is spinning because we, the labor movement, aren't moving as fast as the rest of the world. We're not doing enough to get ahead of change and transform it into opportunity.
Last week, we saw women raise their hands and their voices against sexual harassment. With two simple words, and in a matter of hours, women launched a national conversation about sexual assault and harassment in the workplace.

We've seen people rise up in new ways against corporate greed…poverty wages … racial injustice…illegal travel bans…bathroom bills…and attacks on our free press. These uprisings are organic, large scale and immediate. They relate to our lives both at work and in our communities. And they are happening around us, often without us.
And in his acceptance speech, AFL-CIO President Richard Trumka said:
I am proud to stand before you and tell you we're going to go forward toward a better day for all working people.

Our opponents are tough. They're well-heeled and ruthless. But their deep pockets can't overcome our deep passion for a fairer and more just nation. I say, bring it on!

America is hungry for change. Change doesn't just happen—we will make it happen the same way our predecessors stared down the barrel of a harsh economic and political reality—and even guns—to form the labor movement.

A new day. A better day. For you, and me. Our children and grandchildren.

We'll join together. We'll fight together. We'll win together, brothers and sisters, because we do the work. This is our country, and it's high time that we took it back!
During the convention, the delegates approved the following resolutions:
Speaking at AFL-CIO's Diversity and Inclusion Pre-Conference, Petee Talley said:
I am honored to present the report on the AFL-CIO's "All of Us or None of Us" Convention Pre-Conference, held yesterday where over four hundred participants came to learn, share and be inspired.

Earlier this morning, faith leaders representing many denominations lifted up the universal teachings of love, tolerance and freedom.

There is no one in this room that doesn't know we are in a moment of crisis-not just in our movement, but in too many of our communities.

We can either retreat to our individual corners or we can come together to develop a roadmap that leads to an Economy that Works for All of Us.

In preparing for this year's pre-conference Central Labor Council, president Pat White and State Fed president, Mike Louis, shared with us the relationships they've been cultivating with many of their community allies in Saint Louis.

They've been working together to build a better community where workers' rights are protected, where voters are free to participate in a fair democracy, and where every job is a good job.

The theme of this convention is perfectly timed. We are about joining together in union. We are about fighting together, and we are about WINNING together.
Read more about today's convention:
We Are the American Labor Movement, and We Will Not Be Denied: "Brothers and sisters, St. Louis is a historical gateway to the American frontier, in many ways to the American Dream—many unionists trace their roots to St. Louis and the Show Me state. It will be our entrance to a new vision of prosperity, not a cookie-cutter America dream of white picket fences but a dream shaped by each of us, a dream in which no one gets left behind."
Democracy is Not Just Nice, But Necessary: "At the AFL-CIO Convention's Global Labor Symposium, the last panel of the day proved to be the most exciting. The topic was Unions at the Forefront of Democracy. After an inspiring introduction by Victor Baez, who leads the Trade Union Confederation of the Americas, the entire symposium went outside to join a rally led by Missouri State Rep. Bruce Franks, Jr. to support Black Lives Matter."
USA Hosts Community Fishing Day, Dedicates Willmore Park Piers: "Youth, veterans and seniors got to wet their lines at a fishing event at Willmore Park in St. Louis, Missouri, today, to celebrate the completion of two fishing piers restored by union volunteers. The event was hosted by the Union Sportsmen's Alliance (USA) in conjunction with the AFL-CIO 28th Constitutional Convention."
In Missouri, Together We Win: "We would like to welcome the AFL-CIO Convention to our beautiful city. A city built by the hands of the labor movement. The world-famous Gateway Arch was built with 100% union labor in the early 1960s. Busch Stadium, the home of the 11-time world champion St. Louis Cardinals, was built by union men and women. The convention center, where we bring union members from every corner of the United States, was built by our brothers and sisters. St. Louis was not only built by union hands, but was once the shoe capital of the world, with union-made shoes made at Brown Shoe Co. Our city also was home to McDonnell Douglas, where machinists sent men to space. Not to mention the birthplace of the Electrical Workers (IBEW) and the Bricklayers (BAC). St. Louis is a union town, which makes it the perfect place to host this year's AFL-CIO Convention."
Running for Office: Have You Ever Thought About It?: "I have spent the better part of the past decade asking elected leaders to vote the right way. Asking them to stand with us—as union workers, retirees, women, people of color and immigrants. I have done this by being in the streets, at rallies and protests, asking them to join us on the strike lines, and lobbying them in congressional offices, in our state legislature and in city halls."
Highlights from the AFL-CIO 2017 Diversity Pre-Conference and the Global Labor Symposium: "As part of its quadrennial convention, AFL-CIO is bringing together working families and activists to discuss diversity and inclusion and a separate meeting to discuss global labor issues. Here are some key Tweets from the 'All of Us or None of Us: Join, Fight and Win Together Pre-Conference' and 'Global Labor Symposium.'"
Using Government Procurement to Bring Good Jobs Back to the U.S.: "I am pleased to have the opportunity to share SMART's work on Jobs to Move America and to talk about how we have used public procurement—or government purchasing—to re-shore good American manufacturing jobs."
Brazil Undermines Labor Laws and Puts Women Workers at Great Risk: "Brazil's comprehensive labor laws have long provided a strong institutional framework for unions to defend workers' rights. Changes pushed through Congress this July by Brazil's un-elected president and a Congress compromised by corruption charges have greatly undermined the labor laws and will drastically change the legal context in which Brazil's unions work."
Tennessee SMART Members Donate Time for Veteran: "On Sept. 21, International Association of Sheet Metal, Air, Rail and Transportation Workers (SMART) Local 5 was notified that a local Chattanooga, Tennessee, veteran and his family had been left with an exposed metal roof by a shoddy local nonunion contractor."
Kenneth Quinnell
Sun, 10/22/2017 – 19:11
Source: AFL-CIO