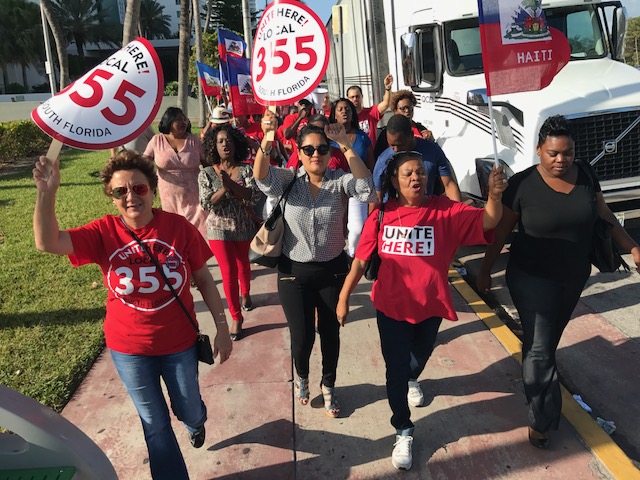 Haitian Workers Call for Renewal of Temporary Protected Status
This May Day, members of UNITE HERE rallied around the country for justice for all races, all religions and all immigrants. In Florida, their actions brought special attention to the plight of Haitian workers and urged the Trump administration to prevent the expiration of Temporary Protected Status for more than 50,000 Haitian nationals living and working in the United States.
"I have been in the U.S. for eight and a half years. TPS has allowed me to work legally and support my five children, two of whom are still back home in Haiti. Immigrant workers like me are the engine of the hospitality industry in south Florida," said Gerdine Verssagne, housekeeper at the Fontainebleau Resort on Miami Beach.
"Failure to renew TPS would not only break apart families and further devastate a country still recovering from natural disasters, but it would also negatively affect the hospitality industry in south Florida, which depends on the labor of many Haitian workers currently on TPS," said Rose Metellus-Denis, president of UNITE HERE Local 355. "We are calling on south Florida employers to urge President Trump to renew TPS."
Not far away in Orlando, several Disney labor unions echoed the call to re-designate TPS for Haitian workers, as well as for Hondurans and Salvadorans.
"Haitians with TPS are hardworking people who live and work in this country, have children born and raised here and own homes in our communities. They are a crucial part of central Florida's economy and community," said UNITE HERE Local 737 President Jeremy Cruz-Haicken. "At Walt Disney World, nearly 500 Haitians work under TPS. These Disney cast members clean rooms, cook and serve food, and keep the parks clean. They are the face of Florida's multibillion tourist economy. They deserve the chance to renew work permits to sustain their families in the United States, as well as remit funds to their families in need back in Haiti."
Join the effort to block the cruel deportation of Haitian community and union members by contacting your elected representatives today. Tell them to pressure the Department of Homeland Security to protect working families by renewing the TPS designation for Haiti immediately.
Kenneth Quinnell
Thu, 05/11/2017 – 16:46
Source: AFL-CIO