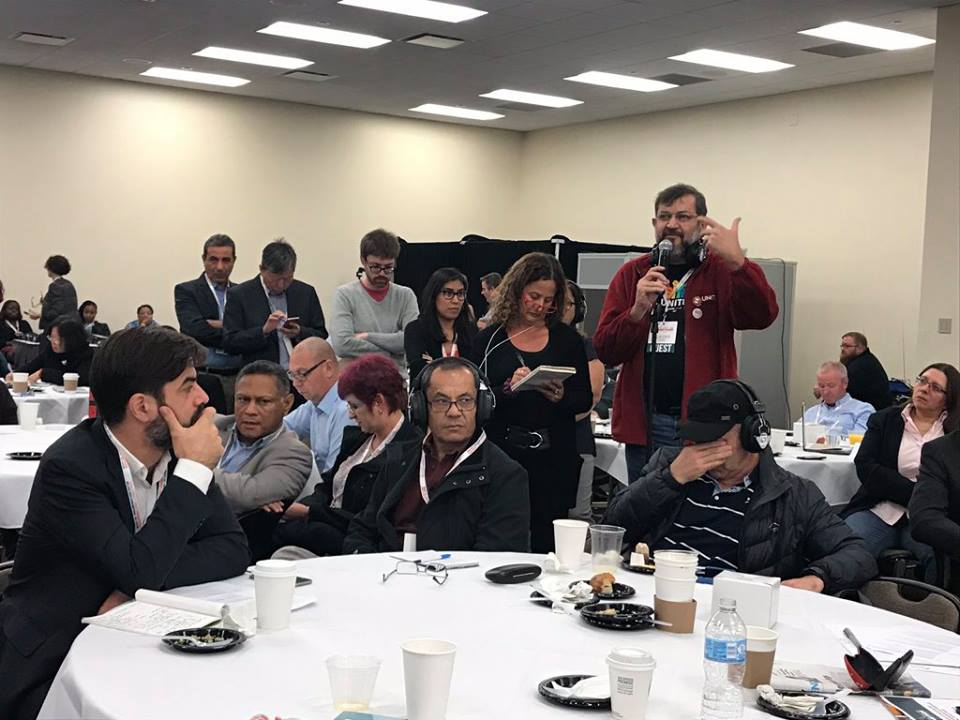 Global Action for Local Power
In St. Louis, representatives from more than 40 countries gathered with U.S. unions and their allies to discuss strategies to build global power for workers, from local workplaces to worldwide supply chains. They discussed how unions in local struggles made their campaigns stronger by reaching out across borders to partners and used global tools to leverage power.
Tactics, varied from international shareholder actions led by the AFT at a global education company to working with global unions like IndustriAll to UNI, to make global framework agreements were more effective in building membership and bargaining power for U.S. workers at European companies who wanted to join Retail, Wholesale and Department Store Union/UFCW (RWDSU/UFCW) and several manufacturing unions like Machinists (IAM), UAW, United Steelworkers (USW), Electrical Workers (IBEW) and Communications Workers of America (CWA).
Workers from Bangladesh and Honduras provided examples of long struggles and victories that needed both local boots on the ground and cooperative strategies with global partners to eventually win. Strategies and tactics were not limited to wages, health and safety, but also to equality in the workplace, gender equity and fundamental rights like freedom of association.
International Association of Sheet Metal, Air, Rail and Transportation Workers (SMART) explained how Jobs to Move America employed global strategies to demand that taxpayer monies be used to buy from companies that accept and engage worker unions in U.S. operations.
As RWDSU president, Stuart Appelbaum, said at the conclusion of the discussion: "In our local New York struggle to organize retail workers at Zara, we could not have succeed without international allies like the Spanish unions and UNI global." Likewise, Dirk Linder of IG Metall (Germany) explained how his union worked to support U.S. workers whose European employers began adopting anti-union tactics in their U.S. operations.
The bottom line is we can join, fight and win for workers, but we must work together across borders.
Kenneth Quinnell
Mon, 10/23/2017 – 10:01
Source: AFL-CIO