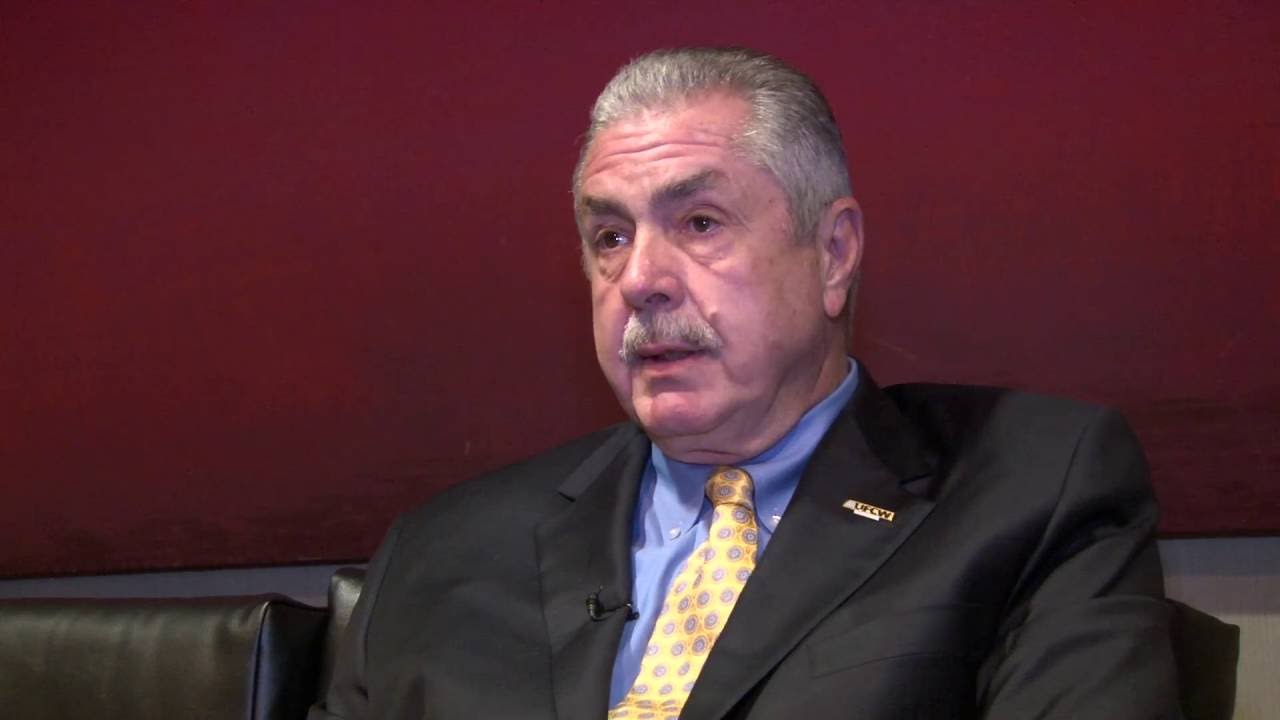 For UFCW President, Union Roots Run Deep
For more than 45 years, United Food and Commercial Workers (UFCW) International President Marc Perrone has been part of what he calls his "union family." It's a bond that dates all the way back to when he was a teenager working at Weingarten's food store in Pine Bluff, Ark. On Sunday, Perrone's hometown newspaper, the Northwest Arkansas Democrat-Gazette, published a feature on his life and career.
Perrone called the UFCW's affiliation with the AFL-CIO a source of great pride. He recently served as co-chairman of the AFL-CIO's Labor Commission on Racial and Economic Justice. The group held six hearings in as many cities between fall 2015 and spring 2016 and issued a report with recommendations for improving relations. Perrone was presented the At the River I Stand Award in January at the AFL-CIO's 2017 Dr. Martin Luther King Jr. Civil and Human Rights Awards Luncheon.
Perrone describes the benefits of union membership this way: "If you want to go somewhere fast, go by yourself. If you want to go long-distance, go with a group."
Read the full profile here. Excerpts are below:
Working for the union has been Perrone's only full-time job. He has a remarkable knack for remembering the first and last names of people he has encountered and the circumstances that led to his rise to the union's top: a sit-down at Weingarten's with that first union rep he met (Perrone insisted that they talk while he was on the clock); a connection made at a dinner hosted by a union boss at Little Rock's Cajun's Wharf (Perrone was waiting tables there at the time); and a store manager who denied him a snack break.
Perrone's job as an organizer led to others within the UFCW: crew coordinator for manufacturing and food processing; executive assistant in a regional office in Dallas; and assistant to the organizing director in Washington at age 28. When his boss in that position was made UFCW international president, Perrone went with him as his assistant. Perrone was a regional director in New York for five years before landing back in Washington as a strategic programs director.
Lori Werner, assistant to Perrone and director of benefits and union administration for the UFCW, describes her boss as a good listener who is open to ideas from staff. "It's always been a very collaborative working relationship," she says. He's engaging and relates well to everyone, even those who don't share his views on things, she says. "I think they view him as someone who will speak his mind and not be shy.

"He's not one to just talk ideas and not see them come to fruition. Execution, to him, is very important," Werner adds.
When the UFCW international president—for whom Perrone previously worked—retired, Secretary-Treasurer Joe Hansen took the helm. Perrone was elected secretary-treasurer in 2004.

Perrone admits he didn't have a lot of financial know-how, but he had experience managing pensions. Rather than depending on hired professionals to help manage the union's assets, Perrone got the schooling he needed through programs at the Wharton School of Business and Harvard to do it himself. He managed two pension funds—one for staff and one for members—totaling about $6.5 billion. He continues to have a hand over those funds in his role as international president, to which he was elected in 2014.

Protecting the pensions of the UFCW's membership is Perrone's crowning achievement. "These are folks that depend on that money every month, to make sure they can pay their bills," he says.
Perrone swung through Little Rock recently on a cross-country tour aimed at assuring members that their union is working for them. "I'm of the belief that, as time has gone on, they've lost touch with the value of their collective bargaining agreement," Perrone says. "We're actually, mathematically, putting a pencil to every portion of the contract to show them what the value is," he says. "They're starting to see the differences."

The UFCW is also doing focus groups with members and nonmembers, asking them for ideas on how the UFCW can better serve their needs. "Basically we're trying to really dig down deep and find out what the members and nonmembers' perception of what [the union] is." Perrone has hit more than 50 cities to date and says he will continue as long as he's president.
Tim Schlittner
Tue, 07/25/2017 – 14:39
Source: AFL-CIO