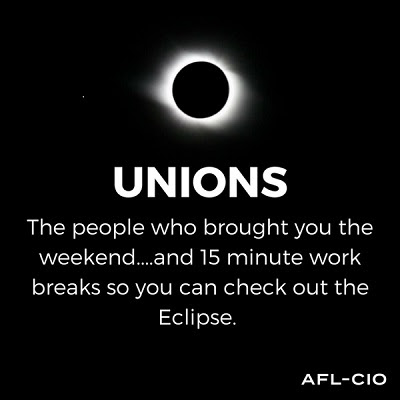 For Monday's Eclipse, Working People Kept Us Safe, Informed
In ways large and small, working people helped America learn about and enjoy Monday's rare total solar eclipse safely and with minimal disruptions.
School teachers (members of the AFT and the National Education Association) used the solar eclipse as a teachable moment about science and history.
Electrical workers—members of the Electrical Workers (IBEW) and the Utility Workers (UWUA) unions—balanced America's electrical grid, as nearly half of the nation's solar capacity fell into shadow, causing a rolling dip of nearly 9,000 megawatts. Yet, thanks to workers at coal, hydro, nuclear and natural gas power plants, the grid didn't fluctuate at all.
Journalists and media professionals—members of the Communications Workers of America (CWA)—brought us the stories, and NASA scientists—members of the International Federation of Professional and Technical Engineers (IFPTE)—helped us all learn more about the earth and our solar system.
All that the rest of us had to do was enjoy it, and we did.
Kenneth Quinnell
Wed, 08/23/2017 – 12:43
Source: AFL-CIO