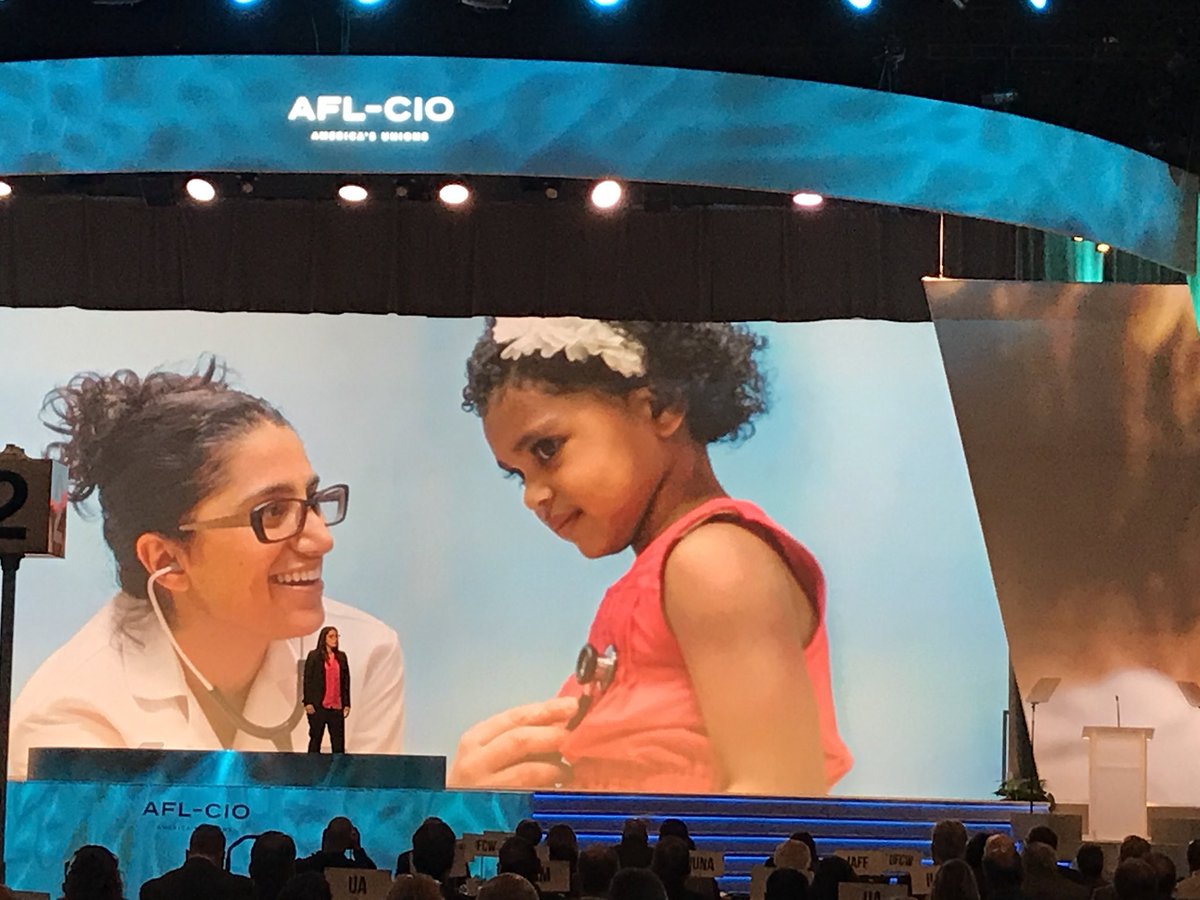 Flint Water Crisis: You Don't Mess Around with Kids
Dr. Mona Hanna-Attisha addressed the delegates at the AFL-CIO Convention today on the Flint water crisis. Here are some excerpts of her remarks:
It's an honor to be here today at the AFL-CIO's 28th Constitutional Convention.
My mom was a proud union teacher. My dad was a General Motors employee, benefiting from the contracts between the UAW and GM. My brother is a labor lawyer at a Washington, D.C., labor law firm. We are a union family.
And it was our larger union family that was the first and most vocal to respond to the Flint, Michigan, crisis. Plumbers, teachers, autoworkers, nurses, postal workers and so many more.
The response to the crisis by Plumbers and Pipe Fitters (UA) General President Mark McManus and UA members, by delivering water, installing filters and replacing our lead pipes, reminds the country of the generosity and spirit of unions. And the UA knows we have a lot of work ahead of us—to replace the millions of lead pipes in this country.
Some 80 years ago, Flint was the birthplace of General Motors and the embodiment of the American Dream.
It's 1936. For 44 days, autoworkers battled company thugs, faced hunger and Michigan's cold winter demanding union recognition, decent wages and working conditions. The sit-down strikes in Flint were radical acts where workers literally took over and occupied factories.
And even our Flint kids raised their voices, fighting for a chance at a better life, a better future.
It took the personal intervention of the governor of Michigan and President Franklin D. Roosevelt to end the strike. And labor won. Their union, the UAW, was recognized.
For the first time, working people had access to the American Dream. A good life. Living wages, housing, health care, great schools and even a pension. This was called the Grand Bargain. And it was a great deal.
These fought-for wages helped push up wages across the country, for decades. Union and nonunion alike.
At one point, Flint had the highest per capita income and best public health outcomes in the country. People from all over the world moved to Flint. It was hailed as one of the world's great industrial cities, a promised land for generations of workers.
But what followed in Flint was decades of crisis—disinvestment, unemployment, racism, poverty, violence, the decline of unions, population loss, crumbling schools and almost every disparity you can think of.
It was a man-made disaster—the result of bad policy choices.
Today, Flint is where our inequality problems, our injustice problems are most striking. If you're born in Flint, your life expectancy is 15 years shorter than if you'd been born in a suburb. This is no one's dream.
And as a pediatrician, I'm in the business of dreams. It's my job to make sure our kids are healthy today, but more importantly, it's my job to make sure they have the brightest future possible.
Lilly is one of these kids. She's a daughter of Flint. She is four years old. Lilly was born into a city that was almost bankrupt. A city that was taken over by a state-appointed emergency manager. The emergency manager's job was austerity, to save money, no matter the cost.
And the emergency manager severed a half-century relationship with fresh, great lakes pre-treated water and, instead, started drawing water from the local Flint River. But the Flint River water was not treated properly.
The heroic people of Flint raised their voices, our Flint kids raised their voices, and they raised their jugs of brown water.
But this poor, predominantly minority city was ignored. For 18 months, people were told to relax, while our children, like Lilly, were drinking contaminated water.
Mind you, we were drinking contaminated water in a city that is literally in the middle of the great lakes—the largest source of fresh water in the world.
The corrosive untreated water created a perfect storm for lead to leach out of our plumbing and into the bodies of our children. Lead is a potent irreversible neurotoxin. It impacts how we think and how we act. There is no safe level.
And the lead problem doesn't only affect Flint. Flint kids, like Chicago kids, St. Louis kids, Baltimore kids and Los Angeles kids—our country's most vulnerable children—are already burdened with higher rates of lead exposure, as well as every other type of toxic stress that threatens their future.
It is an environmental and social injustice, and in Flint, that injustice only widened.
I walked out of my clinic, and I stood up with proof that the untreated Flint River water was causing lead to leach into the bodies of children. The state of Michigan tried to discredit me and my science.
But you don't mess around with kids and you don't mess around with lead.
We fought back with hard facts and evidence. And finally, the truth of our science spoke truth to power.
We are now building a model public health program to best preserve the tomorrows, the dreams, of our children. Wrapping our children with science-based interventions that promote their development—home visiting, early literacy, universal preschool, school health, nutrition access and health care.
Said best by abolitionist Frederick Douglass, "It's easier to build strong children than repair broken men." In a city known for building strong cars, we are also now building strong kids.
But to truly fix Flint, and Flints everywhere, it will take rebuilding the American Dream, from the ground up.
Because the most potent medication I can prescribe is to lift our families out of poverty.
It's not just a labor issue, nor an economic issue. It is a public health issue. It is an American Dream issue.
And in the city where the American Dream was first born, we are moving forward as we strive for equality and justice and opportunity. We are not going to be defined by this crisis; but rather by our response. A response that proactively and positively invests in our children and their parents. With good jobs for our child care workers, teachers, nurses, plumbers and builders. As a pediatrician, I know that parents with good jobs make for healthy kids.
And this is where Flint's struggle is your struggle.
Because there are Flints everywhere. Too many of our nation's children—from the rust belt, to rural America, to coal country and beyond, black, brown and white—are waking up to the same nightmare—the nightmare of poverty, injustice and lost democracy.
This is the union movement's struggle.
Our kids need you in this fight. Our kids in Flint and our kids everywhere.
Kenneth Quinnell
Mon, 10/23/2017 – 12:24
Source: AFL-CIO