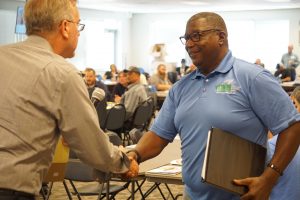 Defending Our House: IBEW Local 1245's Public Sector Members Gear Up to Fight Back Against Anti-Union Attacks
On Aug. 22, Electrical Workers (IBEW) Local 1245 members from across the public sector packed the Ronald T. Weakley Union Hall in Vacaville, California, to learn about the growing attack on public sector unions and Local 1245's strategy to defend and build our house through Volunteer Organizing Committees (VOC) at each of our public employers.
The Threat
The labor movement is bracing for a ruling on a U.S. Supreme Court case known as Janus v. AFSCME, which likely will be decided in June 2018. If the court rules against the union, it would eliminate "closed shops" (also known as agency shops) in the public sector. This is essentially the same end result as "right to work" laws—the objective being to weaken unions and decades-old labor contracts, giving employers unlimited power to define and control wages, benefits, working conditions and regulations.
According to professor Gordon Lafer, a nationally recognized labor expert from the University of Oregon who has documented the impact of RTW in the dozens of states where it is already the law, the detrimental impacts of such a policy are indisputable.
"Research shows that in right to work states, wages and benefits are lower for union and nonunion workers, with zero impact on job growth," Lafer told the room full of Local 1245 activists. "The claim that RTW is about 'freedom' not to pay dues is false. In most states, people pay dues all the time, such as dues to participate in the Chamber of Commerce, or dues to the American Bar Association. The only 'right' that right to work defends is the right to undermine workers' organizations, weaken union contracts and eliminate unions."
What's at Stake
To demonstrate what union members stand to lose under the Janus case and RTW, Local 1245 Business Representative Jennifer Gray held up an original 13-page agreement from nearly 100 years ago and compared it with the current 120-page Sacramento Municipal Utility District (SMUD) contract.
"The contract from 1918 looks a lot like your first house. It provides the basics, a roof, some security and comfort. Your current SMUD agreement is like your current home. It's built equity over time, because of generations of negotiations, and the investment that workers like everyone in this room have given over the years," Gray explained. "Now, how would you feel if someone came in and ripped the roof off your home? Because that's exactly what Janus would do!"
IBEW Local 1245 Senior Assistant Business Manager Ray Thomas reminded the packed room that absent a labor contract, working men and women at public agencies are exempt from wage and hour provisions of the California Labor Code.
"If we lose our contract, we lose the negotiated rules governing overtime, meal breaks, wages and so much more," Thomas said. "If we don't have revenue from union dues, we lose the ability to provide the highest-quality representation and the ability to educate policymakers who define the rules and regulations that affect our pensions, our health care and so on."
How serious is the threat? Just ask the domestic workers' unions. In 2014, a Supreme Court decision (Harris v. Quinn) stripped away the rights of domestic workers, an assault that was compounded by a well-funded, intensive ground operation to encourage domestic workers to opt out of paying union dues.
"The anti-union Freedom Foundation sent mailers, phone-banked, door-knocked and showed up at our members' schools, churches and community centers spewing anti-union rhetoric," recounted United Domestic Workers (UDW)/AFSCME Local 3930 Vice President Doug Moore. "We fought back. We listened to our 100,000 members. And by going door to door, member to member and holding one-on-one conversations and using all the technology at our disposal, we re-signed our members. We turned fee-payers to full members. We grew our membership. We turned this threat into an opportunity and not only survived, but thrived."
Local 1245's Fight Back Campaign
Describing this moment as one of the most serious challenges confronting labor, Local 1245 Business Manager Tom Dalzell affirmed his belief that our members are up to the task.
Pointing to our experience defending and building our house in Nevada, which is already a right to work state, Dalzell emphasized that "We will succeed because of our membership. From linemen to clerical members, our members are stepping up and charting the course. This is your fight. We will support you in every way available. But your voice, your outreach to your co-workers is the most powerful strategy going forward."
Local 1245's organizers have teamed up with our public sector business representatives and developed a fight back game plan for our 2,500 public sector members. Local 1245 organizer Eileen Purcell laid out the 12-month campaign, which aims to re-sign 100% of our current membership and build leadership and capacity.
"Volunteer Organizing Committees are the heartbeat of our campaign," Purcell said. "Our goal is to build leadership and capacity before, during and after the Supreme Court decision, so that we can re-sign our current membership as voluntary dues-paying members and reap the benefits of a fully engaged membership, no matter the threats we face."
Business reps have begun discussing the threat of Janus and right to work at unit meetings. Members have attended conferences and trainings. VOCs already have been launched at several of our 31 public sector employers, including Sacramento Regional Transit (SRT), Modesto Irrigation District (MID), the cities of Vallejo and Redding.
Connie Bibbs, a 31-year member of Local 1245, the unit chair at Sacramento Regional Transit (SRT) and a leader of the VOC, reported on the progress that her committee has made so far.
"We held our first VOC meeting on July 17 at the union hall. On Aug. 16, we held our second meeting. We doubled in size," said Bibbs. "Within 36 days, we'd held 98 face-to-face, one-on-one conversations, grown our VOC to 25 members, identified a point person in every one of our SRT departments and collected 89 updated contact information cards (44% of our membership). Our next VOC meeting is Sept. 20. We are ready to roll!"
MID Unit Secretary and VOC member Karri Daves, a 17-year member of Local 1245, reported that the MID VOC is comprised of 15 core members.
"Since our Aug. 7 meeting, we have tracked 74 face-to-face conversations, identified 15 prospects for the VOC and gotten three commitments to attend the next VOC meeting on Sept. 12," Daves reported. "We are also developing an MID flier that tells the story of MID before the union came, and after we formed our union."
Flanked by six of his co-workers who are on the VOC at the city of Redding, Unit Chair and VOC leader Dave Williams also reported on their outreach efforts and their plans to hold a family barbecue after Labor Day to educate members.
Tough Conversations
Members discussed ways to talk about RTW with members at work, at home and in the neighborhood—by dispelling myths, sharing the facts and recognizing there may be some tough conversations.
"I'd stress that without the organization [the union] we have no contract," Dave Williams said. "If someone doesn't want to pay 1.5% of base pay in dues, I say, 'Think about it. Think about our retirement and what the city pays, only because of the union contract we negotiate. Are you willing to lose upward of 20% in value of your take-home pay and benefits?'"
SMUD member and Organizing Steward Kim Camatti summed it up this way: "Without our contract, the employer determines everything, and we have no rights. Would you rather be paid the nonunion going rate for your job or the union rate?"
Building Our House
By the end of the training, members from 17 employers had set dates and made a plan to recruit their co-workers to the VOC.
"I'm excited about the level of enthusiasm that our members demonstrated for the fight," said Local 1245 Business Representative Sheila Lawton.
"Today, our public sector members took ownership of this fight-back campaign to defend and strengthen their union," veteran Local 1245 organizer Fred Ross added.
Asked his impressions, Lafer declared: "Almost every union I know is in a panic about what to do about right to work. But almost none have done what you've done at [Local] 1245: train rank-and-file members so they have a deep, intuitive understanding of the issue and are equipped to talk to co-workers, and then send them out with a goal of having serious, face-to-face conversations with everyone in the union—and putting those conversations to the test by asking everyone to sign a renewed commitment to the union. It's great to see such a serious and ambitious program, one that doesn't rely on staff to do everything but [instead] puts members in leadership positions. I wish a lot of unions around the country could sit in on what you're doing and copy it."
This post originally appeared at IBEW Local 1245.
Compiled by Local 1245's organizing team. Photos by John Storey and Steven Marcotte.
Kenneth Quinnell
Thu, 08/31/2017 – 14:40
Source: AFL-CIO